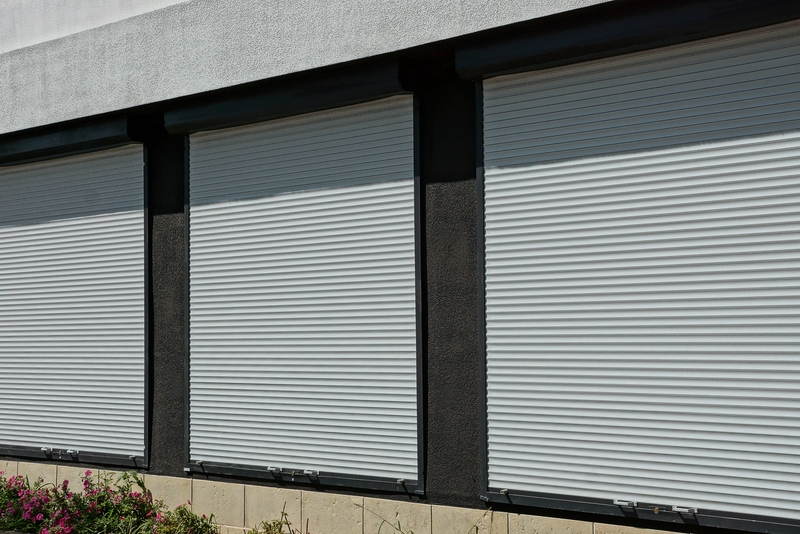 How Do Industrial Roller Shutter Doors Work?
A roller shutter door is a metal entrance consisting of horizontal corrugated slats made from either steel or aluminium. Industrial roller shutter doors operate, as the name suggests, on tracks by rolling vertically up and gathering at the top of the door in a box. Most of these types of entrances are accessed with an electric key, which guarantees an easy and safe security process.
What Are The Different Types Of Industrial Roller Shutter Doors?  
Roller shutter doors are one of the most versatile commercial door structures and can be designed to suit individual businesses. From compact personnel doors to huge heavyweight doors, most aspects of industrial roller shutters can be customised to match your property's needs. Composed of durable and tough metal, the bar grilles and shutters are built to withstand all weather conditions as well as consistent use of the door itself.
You can also choose between a chain or power operation, with the power operation option using either a single or three-phase motor. Other features of industrial roller shutters that can be customised are side seals. Side seals are placed down both edges of the shutter and ensure the structure is waterproof while adding insulation. A bottom weather seal also sits on the base of the door to minimise the chance of flooding and drafts. Lastly, a soffit seal, which is a 4-inch brush strip, keeps dust at bay and also helps add insulation.
All of these optional additions, as well as a weather canopy, can be extremely beneficial for commercial businesses as they ensure better protection, not only against potential intruders but against harsh weather conditions, all types of temperatures, and dust particles. With such a sleek and professional appearance, roller shutter doors will blend seamlessly into any business style too.
Opting For Automatic Industrial Roller Shutters 
Enhanced security plays a major role in why so many commercial settings choose roller shutters. The doors help keep unwanted guests out of the property while creating a professional appearance. Safeguarding against break-ins may be their main function, but commercial roller shutters also protect against fire, so you can lock-up easily in the knowledge that your property is secure against all possible threats. Roller doors can be implemented during the construction of your premises or after the property has been built, so they're always an option for you and your business.
Contact Access Services Today!
To secure your property, contact Access Services today, our team are industry-leading specialists in industrial and commercial doors. Roller doors give you peace of mind that your business is never at risk of being damaged by harsh weather conditions, fire, or intruders again.
With options only big enough to walk through or an entrance large enough to drive through, roller doors offer benefits to a wide range of businesses, no matter what your industry is. To find out more about how we can help you today, call 01933 275091 or head over to our contact page for more details.